It seems to me that Borchi Nofshi, Psalm 104, which is said on Rosh Chodesh mornings might just be the most overlooked section of our prayers. By the time we finish Hallel, leining and mussaf (if you are davening ashkenaz) you are probably already late for your train/bus/car pool and Borchi Nofshi often gets short shrift.
Add to that the fact that Nissan is probably the most hectic month of the year (in case you are wondering why, you better start your Pesach cleaning NOW!). Therefore, it just might be that the Borchi Nafshi we say tomorrow may not get the proper attention it deserves.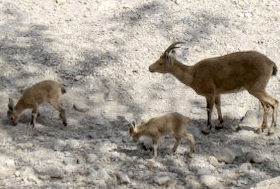 Borchi Nofshi praises the majesty of Hashem by detailing the splendor of His creation. The idea is that by contemplating the amazing beauty and detail of the world around us, we will come to a greater appreciation of Hashem's wisdom and power. (Ironic that the very prayer that seeks to keep us from going through life without stopping to appreciate the beauty of the world around us is often said in the very hurried non-contemplative manner it seeks to avoid)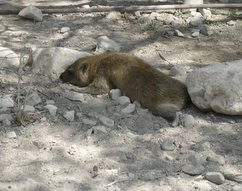 By taking a moment to stop and think about just one verse in Borchi Nafshi and make it just a bit more real, we may just say it a little slower with just a bit more concentration.
One of the most effective means by which to increase kavanah is by employing tzior-drawing a mental picture of the thing you are speaking about in order to augment focus.
Pasuk 18 states "Harim HaGevohim La'Yelim, selaim machseh La'shefanim"- The high mountains are for the Yaelim (ibex), the rocks are a refuge for the shefanim (hyrexs).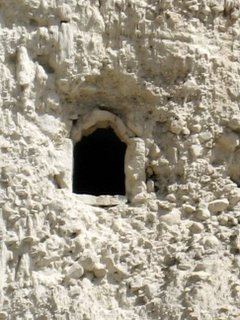 Ein gedi is the place that Dovid Hamelekh hid, in a cave, from Shaul Hamelekh. It is not a tremendous stretch that Dovid either wrote Barchi Nafshi here or at least had it in mind when he was writing it.
At Ein Gedi you can often see yaelim gracefully traversing the treacherous mountains and shefanim scurrying and hiding among the rocks. These pictures taken at Ein Gedi may help us create the mental picture necessary for tzior.
Once we are focused on Hashem's infinite wisdom in creating the perfect place for each of His creations, we can take the next step of focusing on the fact that Hashem also created the perfect place for each and every one of us. Chodesh Tov. (Best wishes for a good month)