Just Released in Time for Chanukah!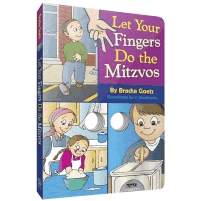 by Bracha Goetz
Published by Judaica Press, 2010
Let Your Fingers Do the Mitzvos is a new book for little children that is full of tremendous potential. It enables children to actually experience the joy of doing mitzvos while the book is being read. The two dimensional children in the book's illustrations transform into three dimensional finger "puppets" when children put their fingers through the holes on each page – and act out each mitzva!
As we watch, our children themselves give life, not only to the cardboard boys and girls in the book – but also to the mitzvos they pretend to perform. Let Your Fingers Do the Mitzvos is ideal for children coming from observant families where they get to see these mitzvos actualized, and it is also an engaging gift to give to a young Jewish child who does not ordinarily have the opportunity to experience all these customary mitzvos.
Children love to pretend, and with this book, they can get a real taste of the pleasure that is possible in doing mitzvos such as walking in Eretz Yisroel, dancing on Simchas Torah, baking challah, giving tzedakah – and even expressing gratitude to a parent with a great big hug. Their little fingers, stuck through the holes of this sturdy and colorful board book become either arms or legs, depending upon what's needed to take part in each mitza!
Let Your Fingers Do the Mitzvos will be enjoyed again and again by young children who can fully delight in this interactive and novel book. It can be found in local Jewish bookstores and online at Judaicapress.com.